Guest Report by Karina Bolan
If you're looking for a little bit of summer heat on a cold rainy day, you might try a trip to Tropical Islands to warm your bones. Located 60km south of Berlin, it took us about 2.5 hours to drive from Prague, an easy journey, mostly on motorways. As you turn off the A113, the truly impressive building looms into view. Formerly a Zeppelin factory, the building is simply huge, and as soon as you see it, you realise how they manage to fit a whole holiday resort inside!
Inside the complex you'll doubtless want to spend a large part of your visit on the sandy beach, which rolls down to a huge swimming pool. For the littlest swimmers, there is gradual entry into the main pool, as well as a splash area with fountains and little slides. For your braver swimmers there is a pirate ship in the middle of the "sea" with a longer slide.
More slides, you ask? Then try one of the 3 longer slides (for kids from 7 years up) which apparently reach speeds of 70kmph! These can be busy during peak times, so get ready to wait in line.
Need more excitement? You can take a hot air balloon ride and soar 60m above the ground – a 10 minute ride costs a hefty 20 euros per person, so you might want to save that one for a special occasion, but our kids were just excited to see it!
There are a number of cafes, where you can buy a coffee, ice cream or beer. Additionally, there are 5 restaurants, ranging from a burger and schnitzel stand, to self-service buffet, and a more high-end Mediterranean restaurant. You probably wouldn't visit Tropical Islands exclusively for the food, but the quality in general is fine, and the prices surprisingly reasonable, given the captive audience.
Apart from lounging on the beach with your ice-cream, watching your little ones dig happily in the sand, you can also visit the laguna, another entire pool area surrounded by sun loungers, with more fountains, slides, a whirlpool and bubbly hot tub. Surrounded by a "rainforest" your little ones will enjoy watching the flamingos and having a chat with the noisy parrots.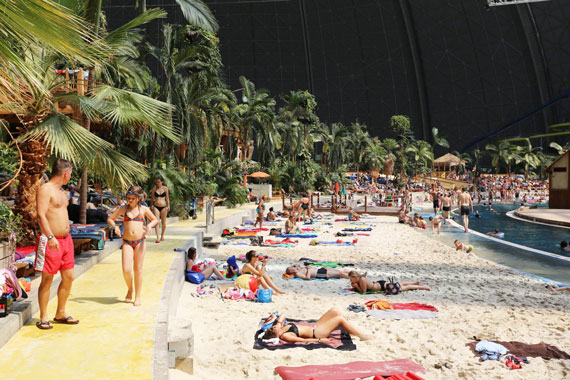 There is a whole kids club area, with animation provided kostenlos (free). It has climbing frames and a ball pool, as well as a go-cart area (kids from 3 years) which is super popular and costs only 1 euro for a 10 minute ride. My 4 year old spent quite some time there (while his 2 year old brother looked on grumpily!). However, the little one cheered up when we took him for a round of mini golf - we obviously let him win!
As it was my birthday, the hubby treated me to a massage in the spa, which was lovely. They offer a wide selection of beauty treatments, at reasonable prices - massages are around 30euros/30 minutes. Additionally, there are several saunas (textile-free, so beware – no bathing suits), a fitness club, and more private "chillout zones" if you need to escape the crowds.
Tropical Islands can indeed be quite busy – apparently Fridays and Saturdays are the worst. We stayed there Sunday to Monday, and obviously during the week it's much calmer. But we could always find a sun lounger on the beach and places in the restaurants, so I wouldn't consider it a problem.
Staying overnight in TI is fun! At one end of the spectrum you can stay in a tent (2-4 people) – look out for special deals of 70 euros per night. Next are the mobile homes which are a short bus ride away from the complex – I personally think it is more fun to stay inside the dome. We splashed out on a deluxe family room – which is a regular hotel room inside the complex. This was among the more expensive rooms, at 250 euros per night (including breakfast and 2-day entry to the park). We had 2 separate rooms, with bunkbeds for the kids and were very comfortable, if slightly amused by the rather rustic décor.
I think TI is definitely worth a visit – you can do it in one day if you leave early, or stay a night or two for the full experience. Of course it has a kind of artificial feel about it, you wouldn't for a minute think you have landed on a real beach in the tropics, but it's as close as you'll get in the middle of winter without having to fly anywhere. My kids adored the place, there is so much for them to do and see, and I personally loved being able to walk around in shorts, enjoying the ambient temperature of 29 degrees, while it was 10 degrees and windy outside. After a long, cold winter which doesn't seem to be leaving us anytime soon, I really enjoyed our sunny trip to this mini man-made paradise.
ADDRESS: Tropical-Islands-Allee 1, 15910 Krausnick, Germany
OPEN: Monday - Sunday: 8.00 - 21.00
PRICE Adults 36 euros, Children aged 6-17 28.50 euros, Children under 5 free (special offers additionally found on the site). Tickets are valid for 19 hours, until 01:00.
FUTHER INFORMATION: https://www.tropical-islands.de/en/tropical-world/